Music Director
Bayani Mendoza De Leon
Bayani Mendoza de Leon (1942-2013) was the first rondalla mentor and music director of the UPAFR. He was a composer who distinguished himself as a multi-instrumentalist, arranger, conductor, poet, writer, ethnomusicologist and cultural scholar, and recipient of the 2008 Pamana ng Pilipino (Philippine Heritage) Presidential Award.
The influence of Professor Bayani de Leon spread throughout the Philippine-American community as a culture bearer in raising awareness and appreciation of traditional and contemporary Philippine music and arts in the US.
In a musical career that began in the 1960s, Professor de Leon composed many versatile works, ranging from operas, symphonies, art songs to avant-garde pieces scored in the most unconventional formats. By 1971 he had become a distinguished member of the League of Filipino Composers. He is listed in Grove's International Dictionary of Music and Musicians.
He has also composed several hundred musical arrangements of Philippine folk and indigenous music, standard classical repertoire, Broadway and opera tunes and world music for band, rondalla, guitar, chorus, and various chamber groups and orchestras.
For more information about de Leon's works, visit menageriearts.com. The Center of Traditional Music and Dance's New Routes newsletter features an article about his personal journey and the Filipino Cultural identity.
---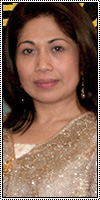 Maria Leonor Llorin
Leonor was the National Champion in the prestigious National Competition for Young Artists in the Solo Instrument Category -- Bandurria. A strong advocate of music education in the Philippines, Leonor's teaching career also brought her to South Korea and Brunei. She currently is the music teacher at St. Helena Roman Catholic School in Edison, NJ. She is a registered Suzuki violin teacher and active member of the Suzuki Association of America. Born to a family of musicians, Leonor also plays the violin, piano, and guitar. In addition, she has years of experience in choral conducting.
Home > UPAFR Organization > Music Director